Let's talk: Powering sustainable agri-food systems with plant-based products and solutions
Sign up to event
Join Food Nation's Global Food Talk online on November 30 from 2.15-3.45 pm CET. At the talk, you will meet leading high-level profiles from the Danish and international agricultural and food scene.
The world's population is projected to reach 10 billion in 2050. One of our greatest challenges will be to feed everyone with safe, sustainable, and nutritious food that is produced, consumed, and recycled in a responsible way.
While there is not just one right path toward sustainable agri-food system transformation, the developments and innovations happening in the plant-based sector these days may be a game changer at a national, regional, and global level.
Dietary changes towards eating less meat and more vegetables, pulses, and whole grains can reduce the environmental impacts on the food system. The evidence compiled so far points to the health and environmental benefit of shifting to a more plant-based diet.
The main question for this talk is: How does the plant-based sector contribute to innovation, product development, and healthy, sustainable food systems?
Program
Welcome
Lise Walbom, CEO, Food Nation
Key-note speaker
– Lara Pappers, Programme Development Manager, Jeremy Coller Foundation
Fireside talk 1: Research-driven innovation to boost the plant-based solutions of tomorrow
– Dan Crossley, Executive Director, Food Ethics Council
– Esben Egede Rasmussen, Minister Counsellor for Food, Agriculture and Fisheries, Embassy of Denmark in the United Kingdom
Fireside talk 2: Providing innovation and technologies to boost plant-based products
– David Erlandsson, Co-founder & sales director, Aliga Microalgae
– Mette Skau Mikkelsen, Principal Scientist – Plant-based Foods Initiative Driver, FOSS
Wrap up
Lise Walbom, CEO, Food Nation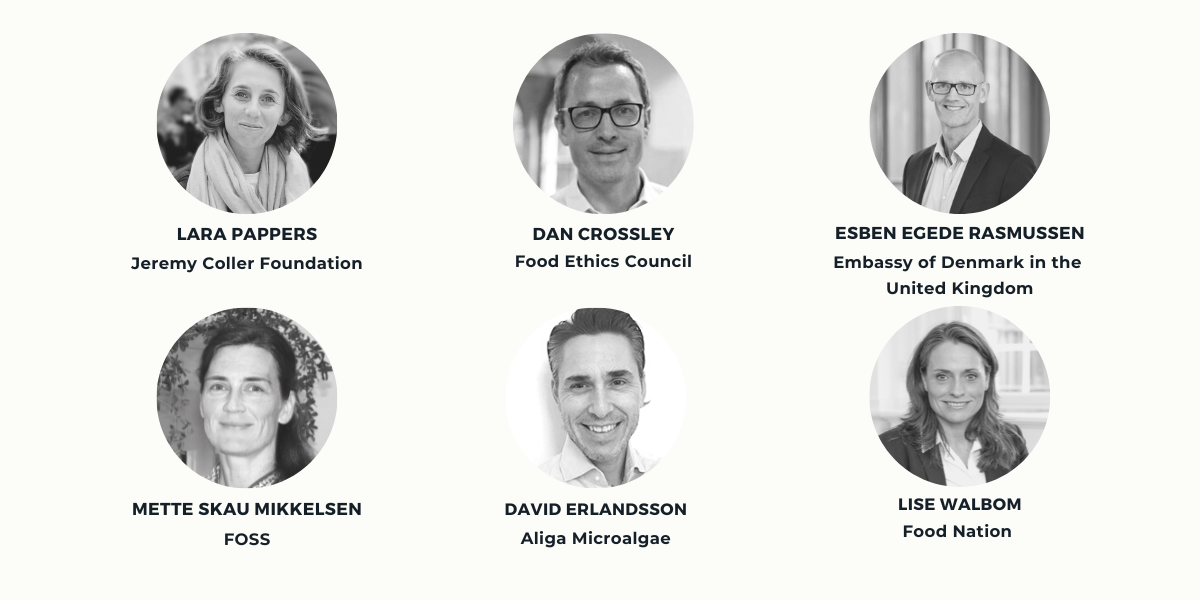 Plant Based World Expo Europe
This Global Food Talk is contributing to the international debate and will be held in relation to the Plant Based World Expo Europe in London. Here, you can discover innovative plant-based products, hear from industry leaders and pioneers, and connect with the right people from the trade including retailers, caterers, investors, buyers and distributors. The Danish pavilion is organised by the Confederation of Danish Industry with Food Nation as a branding partner. Read more here.
The talk will be live-streamed in Food Nations' new virtual universe
If you are joining online, you need to register as a user the first time you access the platform, where you will receive a password by email. You can access the universe here—we recommend that you register as a user sometime in advance of the event.
Global Food Talk is presented by: