Let's Talk: Ensuring global food security – Innovative sustainable solutions as a lever
Sign up to event
Join Food Nation's Global Food Talk on October 27: 'Ensuring Global food security – Innovative sustainable solutions as a lever'. At the talk, you will meet leading high-level profiles from the Danish and international agricultural and food scene.
People around the globe share a common need for a safe, nutritious, and reliable supply of food. According to the UN, the number of severely food insecure people has doubled in just two years – from 135 million pre-pandemic to 276 million today.
Conflict, instability and increasing climate variability and extremes are affecting agricultural productivity, food production and natural resources, with huge impacts on food systems. All of this has led to major shifts in the way in which food is handled, produced, distributed and consumed worldwide – and to new food security, nutrition and health challenges. Therefore, we must ensure efficient and sustainable food production where everyone, everywhere has regular access to enough nutritious and safe food.
The main question for this talk is: How do we ensure enough safe, nutritious and sustainable food for everyone?
Program
Welcome
Lise Walbom, CEO, Food Nation
Key-note speakers: What are the existing drivers of the rising food insecurity and how do we support those that are most at risk of food insecurity?
Arif Husain, Chief Economist and Director of Research, Assessment and Monitoring at the United Nations World Food Programme
Fireside talk: Ensuring sufficient nutritious food for everyone – which approach to value chain development is needed?
Jan Laustsen, Director – Trade, Markets and Nutrition, Danish Agriculture & Food Council
Kinga Szabo Christensen, Advisory Director, Confederation of Danish Industry
Fireside talk: The journey towards efficient agriculture and food production – how can solutions reduce food loss and waste and contribute to food security?
Morten Enggaard Rasmussen, Executive Vice President, Sustainability & Brand, Novozymes
Torben Funder-Kristensen, Head of Industry Affairs, Climate Solutions, Danfoss
Wrap up
Lise Walbom, CEO, Food Nation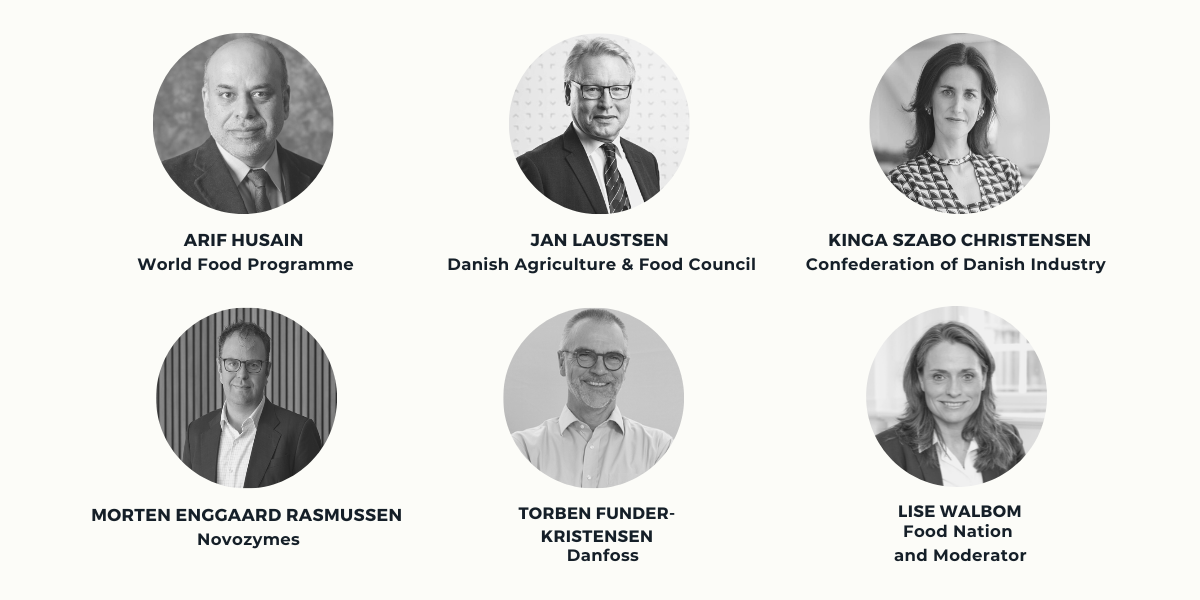 Global Food Talk is presented in relation to World Food Day
Global Food Talks is contributing to the international debate and will be held in relation to the UN's World Food Day on October 16. Collective action across 150 countries is what makes World Food Day one of the most celebrated days of the UN calendar.
The talk will be held in Food Nations' new virtual universe
You need to register as a user the first time you access the platform, where you will receive a password by email. You can access the universe here.
Global Food Talk is presented by: