New feeding robot to solve challenges in the mink industry
The Danish company Hedensted-Gruppen A/S sees a big potential in a new feeding robot for mink producers, set to enter the market in 2020.
The robot is a sustainable alternative compared to current solutions, while also ensuring increased animal welfare with more frequent feeding and better surveillance of the animals' health. It is also expected that the new robot can cut 80% of the expensive salary-expenses from traditional feeding. The robot is developed in a collaboration between Hedensted-Gruppen A/S and Danish robot venture factory Blue Ocean Robotics.
"With our new feeding robot, HG Robo Feeder, we expect mink producers to earn almost 3€ more per skin, due to lower salary–and energy expenses. This will drastically increase the collective earnings in the Danish mink industry, while also bettering animal welfare and ensuring a much greener profile", explains Jens Jørgen Madsen, head of board in Hedensted-Gruppen.
An efficient and climate-friendly solution
For mink producers, there are multiple advantages in introducing this new feeding technology. The economic advantage stems from the fact, that manhours from feeding are expensive, especially during weekends. The green advantage stems from the fact, that the robot uses electricity instead of the diesel-based feeding vehicles that are used today – in total using about 80% less energy than current solutions. Finally, the robot makes it possible to feed more frequently and more in line the animals' nature, while also ensuring a better overview of the animals' health, because the robot immediately detects if the feed has not been eaten.
"Apart from advantages in animal welfare, economy and sustainability we expect to see some of the same gains, as we have seen in automated pig-feeding. However, we cannot put concrete numbers on this before some time in the future", says Jens Jørgen Madsen.
Source: Electronic Supply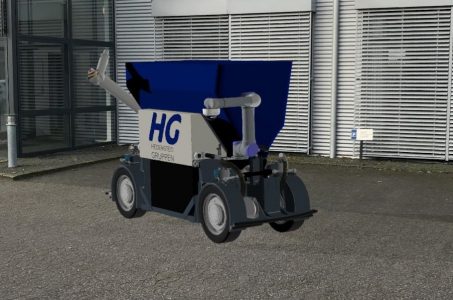 Photo: HG Robo Feeder. Foto/PR.