Denmark's new dietary guidelines has climate-friendly food in mind
For the first time ever, the official dietary guidelines does not only guide Danes on how to eat more healthy, but also on how to eat more climate-friendly. Today, they were launched by the Danish Minister of Food, Agriculture and Fisheries, Rasmus Prehn. 
For the first time ever, the Danish official dietary guidelines has good advices on how to also eat more climate-friendly. Most people might know that eating less sugar, fat and salt and more greens is good for health and vitality. But how do you put together a diet that is better for the climate? The new guidelines provides guidance on this for the first time by e.g. encouraging Danes to eat more legumes, more vegetables and less meat.
"The official dietary guidelines has for decades given good advice on how we can eat healthy, and it is obvious that they are now taking the step further and helping the Danes who also want to eat more climate-friendly. There are no raised fingers, but a simple guide that embraces both considerations, because fortunately it is the case that what is healthy for the climate is typically also healthy for us, and therefore it is obvious that the dietary guidelines take the health of the planet into account. his considerations", says the Danish Minister of Food, Agriculture and Fisheries, Rasmus Prehn.
Small steps can make a big difference
On average, Danes emit just over eight kilos of CO2 a day through drinks and food. In total, it is about three tons a year. According to The Technical University of Denmark (DTU), this can be reduced by up to 35% by cutting down on meat and choosing climate-friendly foods. The potential for adjusting the Danes' eating habits is therefore great.
"There is a lot to gain from the green account by thinking about climate in the diet. Fortunately, many of us would like to, and therefore I am really happy that everyone interested now gets a helping hand with the new dietary guidelines. It's not necessarily about completely changing your diet. Even small changes for the individual can make a big difference if we are many who do", says the Minister for Climate, Energy and Utilities, Dan Jørgensen.
Sustainability and health merge
The new official dietary guidelines are part of the government's ambition to reduce the climate footprint by 70% by 2030. Health and sustainability have long been linked and launched into new global trends in the food industry such as alternative protein sources, foods without trans fat or with a lower sugar or salt content. At the same time, more consumers are looking for foods that are enriched with nutrients that can improve health and well-being throughout life. Read more about how Danish food companies are leading innovation towards healthier food in the white paper on Health.
Denmarks new official dietary guidelines are: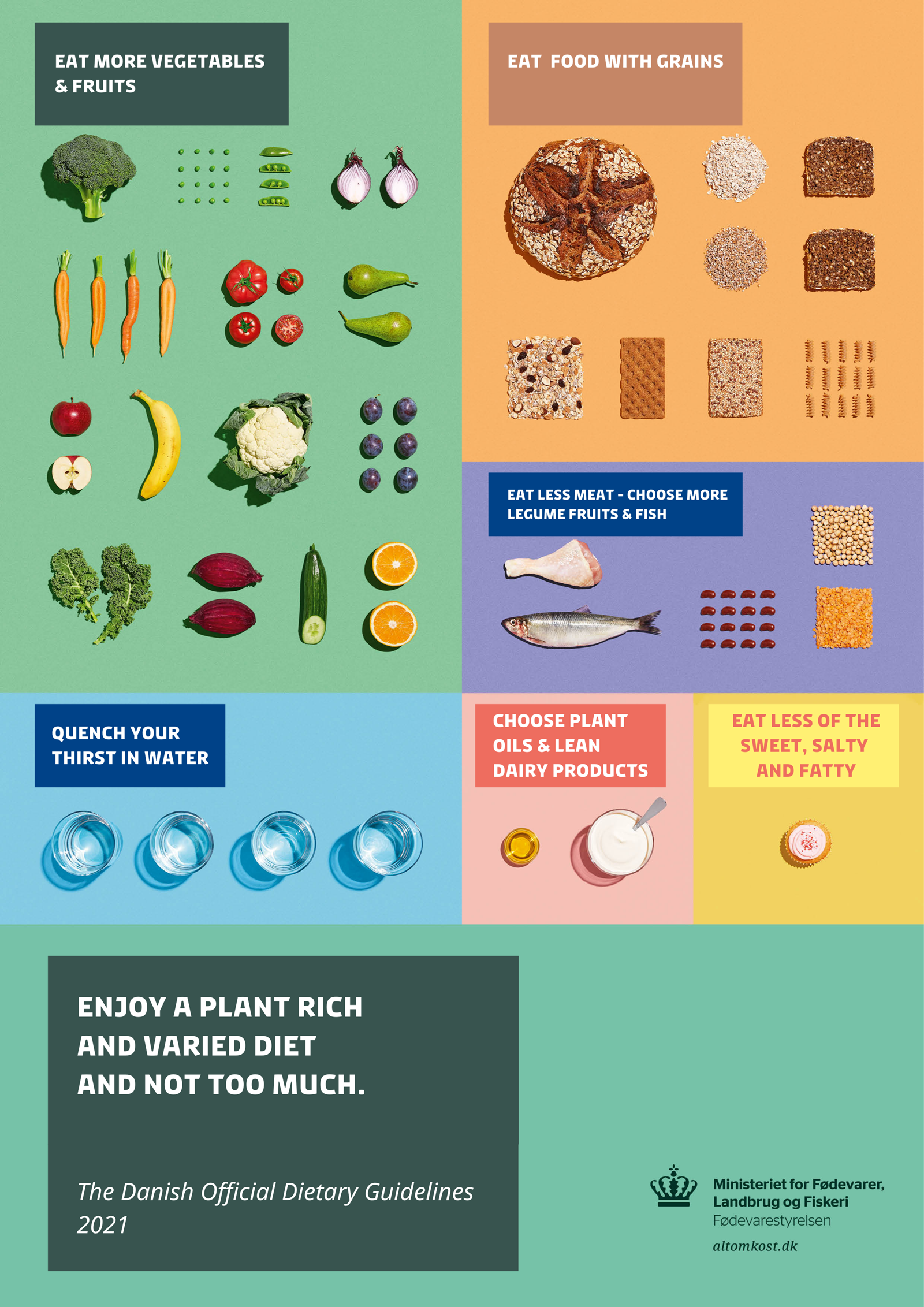 Source: Ministry of Food, Agriculture and Fisheries of Denmark (In Danish)