Let's talk! Healthy food for the future – powered by partnerships
Sign up to event
Join Food Nation's Global Food Talk on November 3rd, 2.30-3.45 pm CET and meet leading high-level profiles from the Danish and international agriculture and food scene. Food Nations patron, His Royal Highness, Crown Prince Frederik of Denmark will give the opening remarks.
Ensuring accessible, healthy food for all is crucial for sustainable development. Today's food system implies a global inequality, with some getting too much high in energy food, while others getting too little food of poor nutritional quality.
Consuming a healthy diet throughout life helps to prevent malnutrition in all its forms as well as a range of noncommunicable diseases and conditions. However, increased production of processed foods, rapid urbanization and changing lifestyles have led to a shift in dietary patterns. We must do something drastic to change this development and here the long Danish experience of working with partnership models may contribute positively.
As far back as the 1960s, the Nordic neighbours have collaborated on common nutritional recommendations (NNR) and established food labels that can help the consumer make the healthier choice when standing in the supermarket. As science continues to unravel the links between diet and health, new ingredients, food products and solutions are building a platform for healthier lifestyles.
​The key question to which we are seeking answers is therefore:
How do we ensure healthy food and food solutions that can heighten the nutritional value for a growing global population?
Program
2.30 pm CET: Welcome, Lise Walbom, CEO, Food Nation
Opening speech: The importance of health in order to meet the UN 17 Sustainable Development Goals
H.R.H. Crown Prince Frederik of Denmark
Denmark's ambitions and role to secure healthy food for all
Minister of Food, Agriculture and Fisheries, Rasmus Prehn
Key-note speech: Urgency call of the global challenges in an increasingly hungry world
David M. Beasley, Executive Director, World Food Programme
Fireside talk #1: Denmark's history and experience working in partnerships across sectors and borders
Charlotte Pedersen, Senior Advisor, GAIN Nordic and Per Christiansen, Deputy Director General (Innovation) Danish Veterinary and Food Administration
Fireside talk #2: How do we ensure healthy food products and solutions that can optimise the nutritional value of products across the globe?
Pernille Bang-Löwgren, CEO, Lantmännen Schulstad A/S and Erik Wiberg-Lyng, President of Ingredients Platform in the global biotech company International Flavors & Fragrances (IFF) and chairman of The Danish Food and Drink Federation.
3.45 pm CET: Moderator closing remarks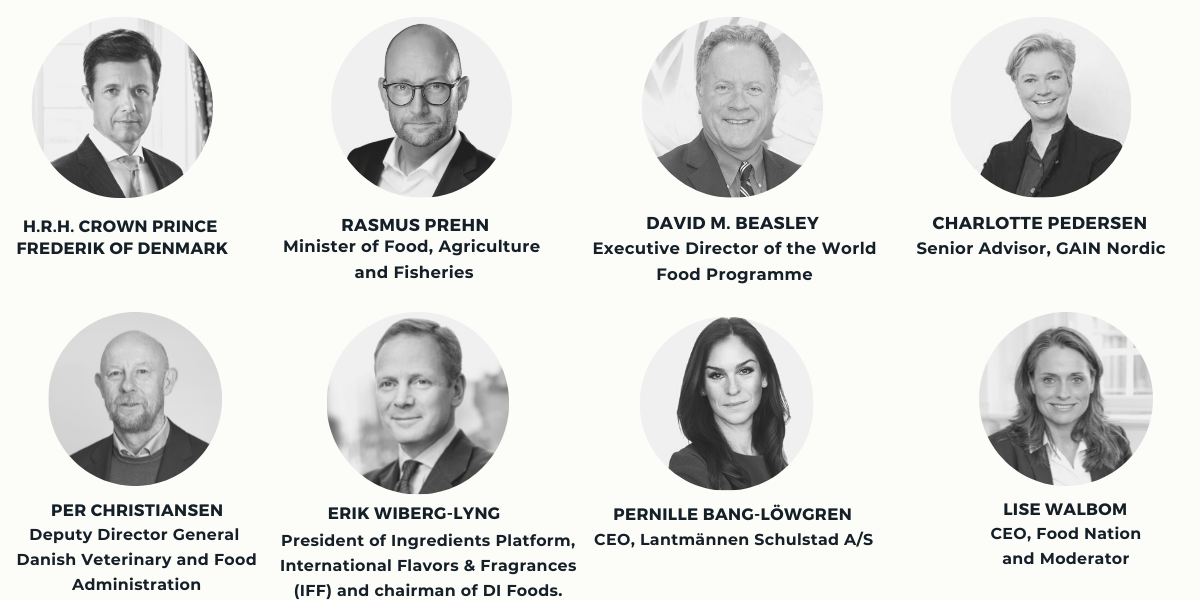 Why join?
Join the event in connection with COP26 where one of the Sustainability Governing Principles is to encourage healthy living. At the Global Food Talk you will gain knowledge on game-changing solutions, scalable actions and partnership models for healthy, sustainable development, be inspired by international stakeholders focusing on the securement of nutritious food for all and become motivated to take action towards the 2030-agenda.
Global Food Talk as a Nordic Talk
This Global Food Talk is presented along with Nordic Talks that give you podcasts and talks dedicated to addressing the UN's Sustainable Development Goals. Through discussions with some of the brightest minds in the Nordics and their counterparts from around the world, Nordic Talks shares inspiration on how to take action on sustainability issues in our everyday lives. Read more here.